Who Austin Fitness Rentals is & What We Do...
Locally owned & Operated in Austin Texs since 2013
AFR is Austin's premier health-club quality fitness equipment leasing service. We are Austin born and bred, owner-operated and dedicated to improving the health and fitness of Central Texans and our visitors. Our passion for fitness is only outshined by our passion for customer service.
We work with residential clients, businesses and medical patients to develop a fitness equipment package that meets your needs and budget. Leasing equipment from us eliminates concerns about servicing, breakdowns, warranties, inability to easily remove, change or add equipment, or being forever stuck with outdated equipment.
In 2016 We changed our name to FitDel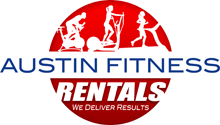 Same Great Company! Same exclusively 5-Star Reputation!
We have a whole page dedicated to Customer Testimonials on FitDel.comand here are a few of my favorites.
"Not too long ago we purchased the Concept 2 Model D Rower after renting for a year and had such a great experience with you guys! We're looking to add a treadmill to the home gym." - M. Shultz Whole Foods Market Project Manager Austin Texas.
"It was convient, quic and easy to get the commercial treamill I wanted. Five star service all the way. - Bradford Holland, MD FACS Pysician, Partner at Waco Ear, Nose & Throat"
"FitDel provided us with a great interim fitness solution while we decide on what to purchase in the future. High quality, user friendly equipment and great customer service! - Joanna Ramirez St. David's Foundation"
On behalf of everyone at FitDel, I thank you for your time in learning more about us. We are here for you and available via call, text, email and carrier pigeon (not really, it's probably too hot in Austin for carrier pigeons).

Get started on your journey to better health today.